*This event has been postponed. We will be refunding the tickets purchased, and will be working to reschedule the event in the spring. As always, providing quality programming is important to our organization, and we want to ensure outstanding experiences at every event.
---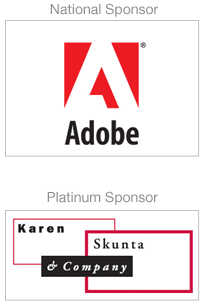 Join AIGA Cleveland for an exciting workshop using Adobe Muse! You'll learn how to create sites using hundreds of web fonts served by the Adobe Typekit service, rich imagery, and engaging interactivity such as slide shows and scroll effects. You'll also learn how to create mobile versions, collect information with contact forms and connect sites to social media accounts like Facebook and Twitter. In just a few hours, you'll learn how to use this deep set of design and layout features to deliver professional, highly designed websites that meet the latest web standards and can be hosted through Adobe or with any hosting provider.

This workshop is best-suited for those who have never designed a website or rely on someone else to build them, those who rely on template driven systems to build websites without using code, or those who are comfortable building a HTML website but would prefer not to have to code. During the two-hour session, Adobe trainer April Clark will explore:


Quickly creating a sitemap for your web design easily adding and rearranging pages and their relationship to each other. 

Applying master pages so that you can quickly apply elements that are common across multiple pages. 

Defining site properties like margins, page width, page alignment and hyperlink state colors. 

Creating unique smartphone and tablet versions of your desktop layout. 

Using the widget library to easily add fully customizable slideshows, tabbed and accordion panels, lightboxes, contact forms and more. 

Knowledge of Adobe Photoshop, Adobe Illustrator and Adobe In-Design is required. 

During the workshop, we'll use Adobe Muse and Typekit, which are available as part of the Adobe Creative Cloud. Don't have Creative Cloud? Sign up for a free 30-day trial to gain access to the programs listed. If you're bringing your laptop, we suggest that you download and install the trial software before the workshop.


Details:
September 13th, 2014
9:30 AM – 12:00 PM (Workshop Begins at 10:00 AM)
CSU Main Classroom 136
2121 Euclid Avenue
Cleveland OH 44115
Parking Info:
Visitor Lot South Garage is $2 for the first hour, $1 for each subsequent hour with a $10 maximum.
Cost:
$15 members
$25 non-members
FREE for students
(includes coffee and continental breakfast)