There is an error on the Design Crawl Passports. The information on this page and Eventbrite is accurate. Our event will begin at 5:00, and you may start at any studio you wish.
Don't miss this opportunity to get a behind-the-scenes look at the inner workings of three award-winning Cleveland businesses during our Studio Tours! See projects in progress, learn about different firms' cultures and methodologies, and rub elbows with local professionals in the environment that inspires their best work. At each stop, tour participants will receive a button designed by each studio, be sure to collect them all! Studios featured include Karen Skunta & Company, Flourish, & Recess Creative.
Details:
Friday, October 3, 2014
5:00 PM – 9:00 PM
Cost: FREE

Tours will begin on the hour, lasting 45 minutes to allow attendees time to get to the next location. Tour participants may start at any of the three studios.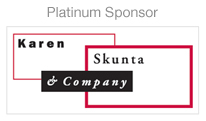 Karen Skunta & Company
1382 W. 9th St #201
Cleveland, OH 44113

Flourish
1001 Huron Rd E
Cleveland, OH 44115

Recess Creative 
635 W. Lakeside Ave #101
Cleveland, OH 44113
Parking & Walking Info:
All meters downtown are free after 6:00pm. There are meters located near Flourish, Karen Skunta & Company, and Recess Creative. There are also a number of paid lots near each location. Bring quarters if you plan on parking on the street when the tours start at 5:00!

Each group will be walking from one studio to the next. You may start at any location at 5:00pm. An AIGA tour guide will be with your group to get you to your next destination.

If you begin at Flourish:
Your second stop will be Karen Skunta and Company (approximately 0.9 miles and a 15 minute walk)

Your third stop will be Recess Creative (approximately 0.2 miles and a 5 minute walk)

If you begin at Karen Skunta & Company:
Your second stop will be Recess Creative (approximately 0.2 miles and a 5 minute walk)

Your third stop will be Flourish (approximately 0.9 miles and a 15 minute walk)

If you begin at Recess Creative:
Your second stop will be Flourish (approximately 0.9 miles and a 15 minute walk)

Your third stop will be Karen Skunta & Company (approximately 0.9 miles and a 15 minute walk)