Join AIGA Cleveland for the fourth  annual INtrospective: A One-Day Conference for In-House Creatives. It will be a day of education, insight and inspiration, featuring some of the most dynamic and influential in-house creative professionals, both locally and nationally.

After the success of 2018's conference, we are excited to bring you more speaker presentations and working sessions tailored to in-house professionals of all levels. Refuel your creativity and connect with your peers. You'll return to work inspired and re-energized.

This year we're dividing the day into two parts where the morning is focused on inspiring creativity and the afternoon is focused on applying creativity.
 
Not an in-houser? No matter where you spend your day designing, there will be plenty of great information to take away.



Keynote Speakers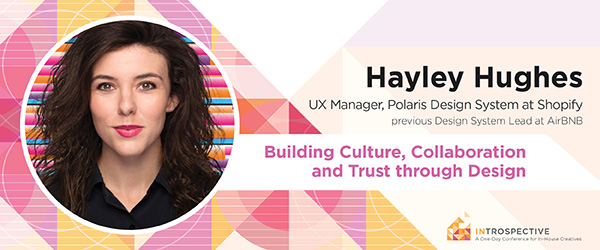 Hayley Hughes, 
UX Manager, Polaris Design System at Shopify 
Hayley Hughes is the Design Manager for the Polaris Design System at Shopify. She formerly pioneered the Design Language at IBM, and lead the evolution of the Design System at Airbnb.
Hayley's work has been featured in Women Who Design, Under Consideration, and "26 Innovations by 26 Women." She is a certified IBM Enterprise Design Thinking Leader. Her work is grounded in an idea she describes as system stewardship, the integrative practice of building systems from a deep understanding of human behavior, community, and culture. She has shared her scaffolded model for a "Design System of Human Needs" around the world in 12 different countries and participated in webinars with Adobe, Invision, and Monotype. Outside of work, Hayley likes to throw tennis balls with a poodle, eat Japanese comfort food with her partner, and enjoy the outdoors in sunny Austin, Texas.
Talk description:
Building Culture, Collaboration and Trust through Design
Design systems can create better experiences for customers and employees alike. But to achieve this goal, you first need to build a culture of trust, openness and collaboration within your design team — and across your entire business. How do you cultivate a healthy community and become a good system steward? Inclusivity is a key ingredient, whether that means collaborating with product, engineering, legal and policy teams or designing with and for people with disabilities. Learn how to build care and compassion in your own backyard, so you can extend you practice outward to design a product that reflects diverse user experiences.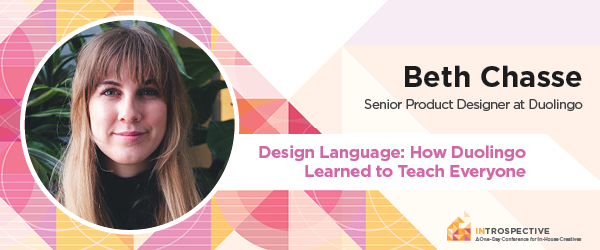 Beth Chasse, 
Senior product designer, Duolingo
Beth Chasse is a senior product designer at Duolingo, the world's most downloaded education app. At Duolingo, she turns learning into a game and makes the difficult process of learning a new language fun and easy. Over the last five years she has worked on both the Learning team—designing new ways to teach language—and the Growth team—helping Duolingo acquire and retain its users. Beth works from Duolingo's HQ based in Pittsburgh, Pennsylvania.
Talk Description: 
Design Language: How Duolingo Learned to Teach Everyone


Duolingo is the most popular tool to learn a language in the world. With over 300 million users, how do you personalize learning for everyone? Serious learners want to be challenged but casual users just want to do something more productive than zombie-scrolling through social media posts.
Whether it's personalizing flows for their diverse user types or the makeover Duo, their beloved owl mascot, Beth will take you behind the scenes to see how Duolingo turns to Design to solve intractable business problems.
Inspiration Insights Speakers
Brought to us by Cleveland State University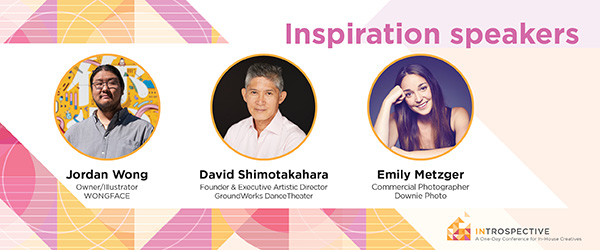 Emily Metzger is a Cleveland based commercial photographer & Jeff's Downie's wing woman! She specializes in lifestyle, people and fashion photography. . 
In her 7 years at Down Photo, Emily has shot  some amazing clients including  BioEnterprise, Columbia Sportswear, Cleveland Magazine, Craftsman Lawn & Garden, CLE Clothing Co.,  Durango Boots, Moen, Theraband, Rocky Boots and Amerimark. 
Jordan Wong

Owner/Illustrator, WONGFACE
http://www.wongface.com/
Jordan Wong (WONGFACE) loves to delight, inspire, and share his quirky sense of humor through illustration and graphic design.
Since relocating to Cleveland in 2015, Jordan has started his own business, showcased artwork throughout the city, become AIGA Cleveland's Community Outreach Director, worked on the CAC SfAPT (Cuyahoga Arts and Culture Support for Artists Planning Team), and assumed the role of design partner at the art organization SPACES. Jordan draws inspiration from his experiences as an Asian American as well as from his nostalgic adoration for narratives found in comic books and video games.
David Shimotakahara 

Founder & Executive Artistic Director, GroundWorks DanceTheater. 
www.groundworksdance.org
David Shimotakahara is Founder and Executive Artistic Director of GroundWorks DanceTheater. The company is dedicated to creating, producing and presenting new work in dance. Since 1998 it has shared with dance lovers and neophytes alike dance experiences that are unconventional, yet deeply human and resonating. 
Mr. Shimotakahara has received numerous awards for his choreography and for the work of GroundWorks at the local, state and national level. These have included 8 Individual Artist Fellowships for Choreography from the Ohio Arts Council from 1996 to 2017. In 1998, he received a McKnight Foundation Fellowship from the Minnesota Dance Alliance. Mr. Shimotakahara was awarded the 2000 Cleveland Arts Prize for Dance. In 2002 his work with GroundWorks DanceTheater was voted "One of 25 to Watch" by Dance Magazine. In 2007, he received the OhioDance award for Outstanding Contributions to the Advancement of the Dance art form. In both 2010 and 2014 Shimotakahara was awarded a Creative Workforce Fellowship, a program of the Community Partnership for Arts and Culture, funded by Cuyahoga Arts and Culture. 
Professional Insights Speakers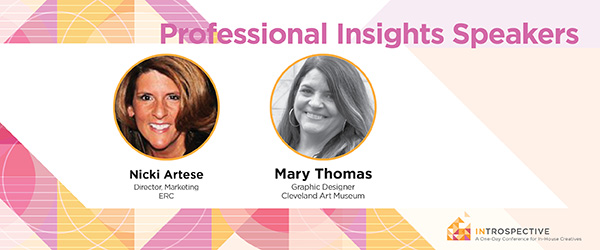 Nicki Artese
Director, Marketing at ERC
yourERC.com

Nicki Artese is an award-winning marketing and PR leader and producer with a 30-year history of promoting emerging enterprises to billion-dollar businesses. She's spent her career raising the visibility and authority of organizations and individuals to their clients and communities.

Nicki is currently the Director of Marketing at ERC. Prior to joining ERC's leadership team, she operated her own marketing and PR practice for 15 years. Before becoming a solopreneur, Nicki spent 15 years in corporate communications, as Vice President of Marketing at Wonderlic and Vice President of Communications at The Reserves Network.
She holds a Bachelor of Journalism degree from the University of Missouri's Columbia School of Journalism, with an emphasis in advertising and public relations. Nicki received her Employment Law Accreditation from the American Staffing Association. She also has experience with holistic behavioral psychology and is a firm believer in heart-centered leadership.
Mary Thomas

Head of Graphic Design, Cleveland Art Museum
clevelandart.org
Mary Thomas is the Head of Graphic Design for the Cleveland Museum of Art where she  manages the department and designs galleries, signage, and exhibition graphics. She has been at CMA for 18 years, with over 31 years of experience as a graphic designer for museums, including the Ohio Historical Society in Columbus and The Cleveland Health Museum. Her expertise is designing and managing the production of graphics in-house and with outside vendors for exhibitions, galleries, and signage. 
Amongst the recent large exhibitions, she has been the lead designer of 
Painting the Modern Garden: Monet to Matisse, Art and Stories from: Mughal India, The Jazz Age: American Style in the 1920's, Renaissance Splendor: Catherine de Medici's Valois Tapestries, Michelangelo: Mind of a Master.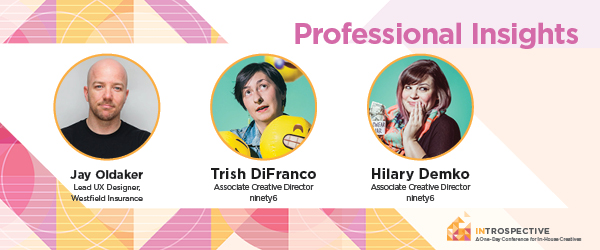 Hilary Demko & Patricia DiFranco 
Associate Creative Directors, ninety6
weareninety6.com
Hilary Demko is a native-born Cleveland designer, and is one of those elusive Type-A creatives. She is an Associate Creative Director at ninety6, the internal creative team for Progressive Insurance. Hilary has a wide breadth of project experience, from web/digital/social, email marketing, signage and wayfinding, brand guidelines, traditional print of all kinds, and custom merchandise. Her latest work focuses on signage for Progressive Field, and the extensive experiential activations for Progressive's recreational products. She holds a BFA in Visual Communication Design from Kent State University, with a concentration in 2D and 3D design. 

Trish DiFranco is an Associate Creative Director for ninety6, the internal creative team at Progressive Insurance. Trish started her career as a copywriter for McCann Erickson before boomeranging back to Cleveland. An alumni of local agencies Brokaw and Marcus Thomas, she made the switch to in-house marketing back in 2015 and hasn't looked back since. With a focus on social and digital storytelling, she is best known as the voice of Flo on Facebook and Twitter.  
Jay Oldaker
Lead UX Designer and Westfield Insurance
When:
Saturday, October 19
10:00am—5:00pm
Registration opens at 9:30am


Where:
Cleveland Museum of Art
11150 East Blvd, Cleveland, OH 44106
Cost:
Members $79
Non Members $129
Member Student: $29
Non Member Student: $49
Free CMA garage parking passes will be provided for all attendees at the event. 
Take a ticket at the gate upon arrival and use both passes to exit.

Interested in bringing your team? Email 
mrogers@cleveland.aiga.org
 for group discounts.

Thank you to our sponsors